This could quite be my favorite grilled vegetable dish to date. The homemade balsamic vinegar is delicious, refreshing, and easy (can't complain with only 4 ingredients). It's the perfect time to grill this (or, in our case tonight, roasted it) since the vegetables are in season, plentiful, and we have mother nature cooperating with us.

The basil in the quinoa (pronounced keen-wah) dish added just the touch of flavor, and overall, this was a great grilled side dish (and for me, it was satisfying enough for my main meal tonight).

The only thing I'd change next time would be to use cherry tomatoes- regular tomatoes, when chopped, are so watery/juicy and they produced too much liquid in this dish. I also made 2x the balsamic vinegar since we like our veggies with robust flavors (edited below).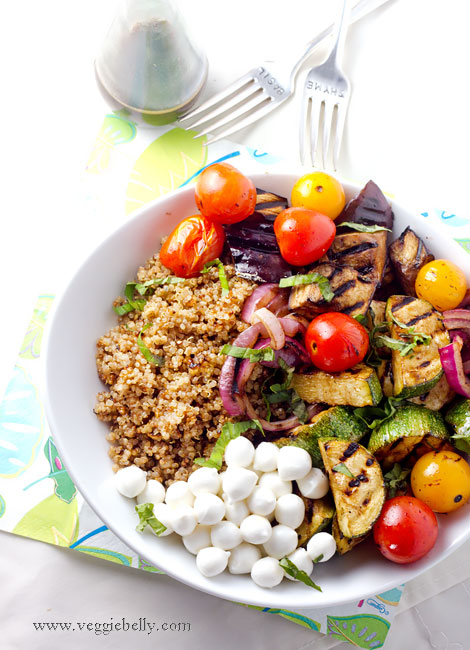 Balsamic Grilled Summer Vegetables (Eggplant, Zucchini, Tomato, Red Onion), Pearlini Mozzarella and Basil Quinoa Salad Recipe
For balsamic vinegar
(we use my homemade version)
1/2 cup balsamic vinegar

5 Tbsp olive oil

5-6 cloves garlic minced

salt and pepper
For summer grilled vegetables:
1 small italian eggplant (about 2 cups when cut into big cubes)

1 small zucchini (about 2 cups when cut into big cubes)

1/2 small red onion (1/4 of a large red onion)

3/4 cup cherry tomatoes

4 sprigs fresh thyme, leaves stripped
For the basil quinoa:
2 cups water

1 cup quinoa

1/4 cup basil leaves loosely packed, chopped

1/2 cup pearlini mozzarella balls, or bocconcini mozzarella balls, tossed in a little salt and pepper (I used fresh mozzarella and diced them)
Serves about 3. (you will have as much grilled vegetables as quinoa)
Directions:
Make the balsamic vinegar: Whisk together all the balsamic dressing ingredients and set aside.
Make the basil quinoa: In a medium saucepan, boil water for the quinoa salad. Add quinoa and bring back to a boil. Reduce heat, and simmer covered on low, till all the water has been completely absorbed, about 20 minutes. When the quinoa finishes cooking, toss it with 1/3 of the balsamic dressing. Stir in chopped basil, salt and pepper.
Prep the veggies: While quinoa is cooking, cut the eggplant and zucchini into 1-1/2 inch cubes. Cut the red onion into rings. Place cubed eggplant, zucchini, red onion, tomatoes and thyme leaves in a large bowl. Pour the other 1/3 the balsamic dressing over the vegetables and toss well.
Grill the veggies: Brush grill grates with olive oil or non-stick spray (I used a stove top cast iron grill). Heat grill to medium-high. Grill the vegetables about 3 minutes on one side or till grill marks appear, about 3 minutes. Flip them over and grill other side till vegetables are tender but still a bit firm. Tomatoes will cook quicker, remove them from the grill as soon as they start to blister. (We roasted our veggies on 475 degrees for 25-30 minutes.)

Spread quinoa on a platter or bowl. Arrange the grilled summer vegetables and mozzarella around the quinoa. Serve warm with the remaining 1/3 balsamic dressing on the side.