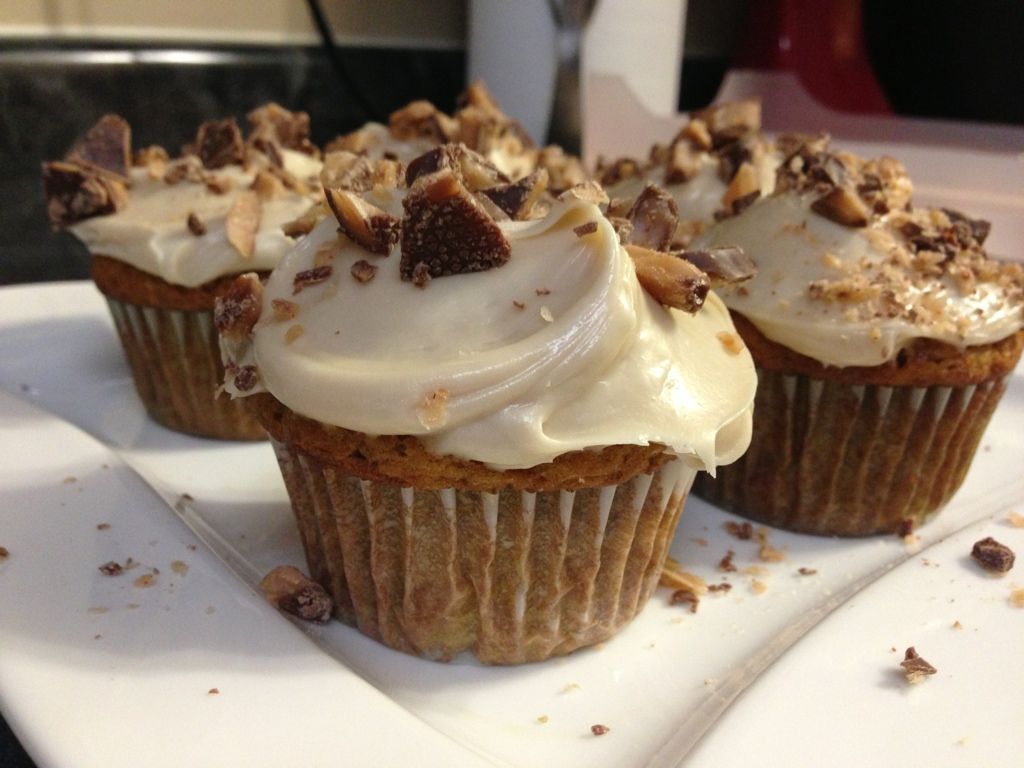 It's been a long time since I've posted, but I've made these cupcakes twice in 1 week, and about to make them again for our friends visiting us for Thanksgiving. It is another Ina winner.
The recipe is straightforward, easy, and uses common ingredients. The cupcakes crown nicely, and I love that I can make it easily in the morning (both times before work), and it tastes fantastic! I've adapted the recipe a little, and I've made my comments
in italics
.
Note: I saw a blogger who substituted maple extract for maple syrup, and you couldn't even taste the maple flavor- at all. Luckily, I found maple extract and wow! The maple frosting really adds to this recipe, and gives it a nice maple coloring to the frosting. I would highly recommend purchasing maple extract for this recipe. The frosting made too much for the number of cupcakes, so I'd reduce the frosting amount by 30% (which I've made the adjustments in
italics
below).
I hope you love this recipe as much as I have, and it is perfect for Thanksgiving :)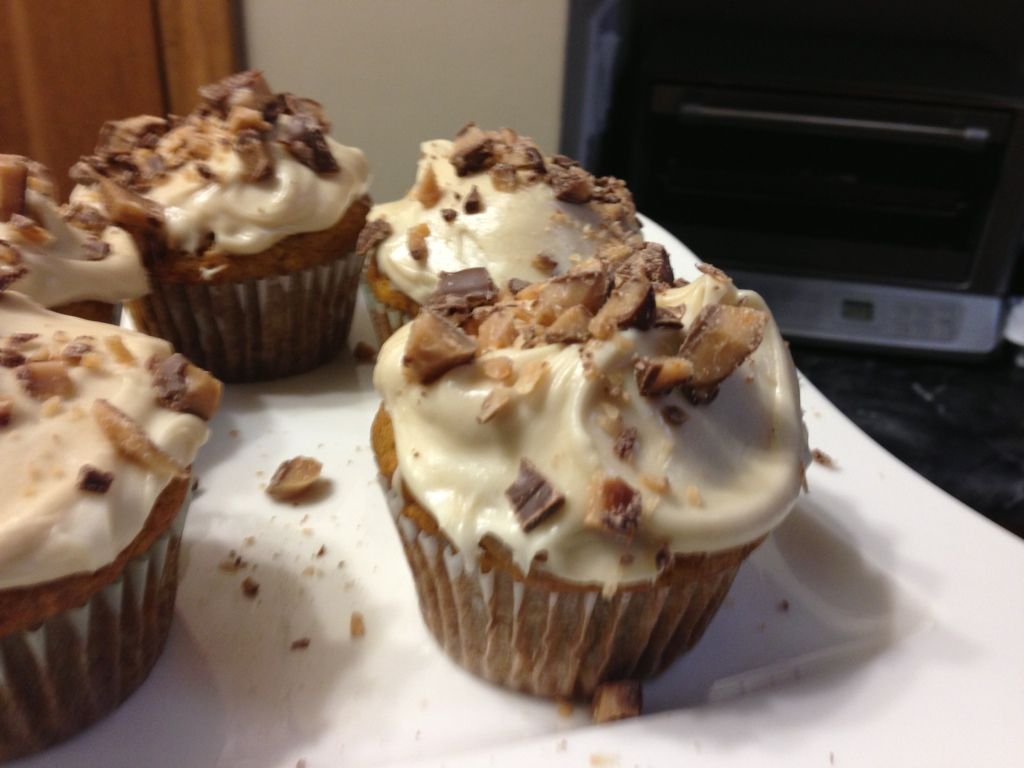 Pumpkin Cupcakes with Maple Frosting
Ingredients:
1 cup all-purpose flour
1 tsp baking powder
1/2 tsp baking soda
1/2 tsp kisher salt
1 tso ground cinnamon
1/2 tsp ground nutmeg
1/2 tsp ground ginger
2 extra-large eggs, at room temperature (I used large eggs)
1 cup (8-oz) canned 100% pumpkin puree (not pumpkin pie filling)
1/2 cup granulated sugar
1/2 cup light brown sugar, lightly packed
1/2 cup vegetable oil
1/2 cup coarsely chopped Heath bars, for serving (I used 1 bar and had enough to top)
Directions:
Preheat the oven to 350 degrees. Brush or spray the top of 10 muffin tins with vegetable oil and line them with 10 paper liners.
Into a medium bowl, sift together the flour, baking powder, baking soda, salt, cinnamon, ginger, and nutmeg.
In a larger bowl, whisk together the eggs, pumpkin purée, granulated sugar, brown sugar, and vegetable oil. Add the flour mixture and stir until combined.
Divide the batter among the prepared tins (I use a level 2 1/4-inch ice cream scoop) and bake for 20 to 25 minutes, until a toothpick inserted in the center comes out clean. (Mine baked in 24 minutes.) Set aside to cool completely.
Spread the cupcakes with the Maple Frosting and sprinkle with the chopped toffee bits.
Maple Frosting
6 ounces cream cheese, at room temperature (I'd recommend 4-oz)
3 Tbsp unsalted butter, at room temperature (I'd recommend 2 Tbsp)
1/4 tsp maple extract
1/2 tsp pure vanilla extract
2 cups sifted confectioners' sugar (I'd recommend 1.5 cups)
Directions:
In the bowl of an electric mixer fitted with the paddle attachment, cream the cream cheese and butter on low speed until smooth.
Stir in the maple flavoring and vanilla extract.
With the mixer still on low, slowly add the confectioners' sugar and mix until smooth.
Yields: 10 cupcakes